Aquatic adventures, whether they be on a ship, underwater, or even in the elemental plane of water, can be one of the most memorable adventures in Dungeons & Dragons. Many modules are set around exploring uncharted waters, and they are one of the favorite biomes for players to experience.
RELATED: Dungeons & Dragons: Races Perfect To Play In An Aquatic Campaign
Setting up encounters for aquatic settings might require a lot of preparation and research. But knowing some of the most common and interesting inhabitants of these biomes can help you come up with various encounter ideas for your game.
Updated February 5, 2023, by Nima Dabirian: With every new major release for Dungeons & Dragons 5e, there are new or modified monsters to consider for your next game. Finding the best choice for your table from the various sources can take a while, so having some of the best aquatic-themed monsters in one place can save you some preparation time for your next DnD session.
12
Kuo-Toa
Kuo-Toas are small fish-like amphibious humanoids that used to live in coastal areas, but human settlements drove them deeper into the ground. Because of this, your party is likely to find them in isolated coastal caves or underground bodies of water.
| | |
| --- | --- |
| Challenge Rating | 1/4 |
| Size and Creature Type | Medium Humanoid |
| Notable Traits | Advantage on escaping from grapples Able to see invisible and ethereal creatures Sensitive to sunlight |
With their low stats and CR, these creatures are not a real challenge in small numbers. But their cult-like behavior and their different variants make them a real threat even to mid-level parties at higher numbers.
11
Harpy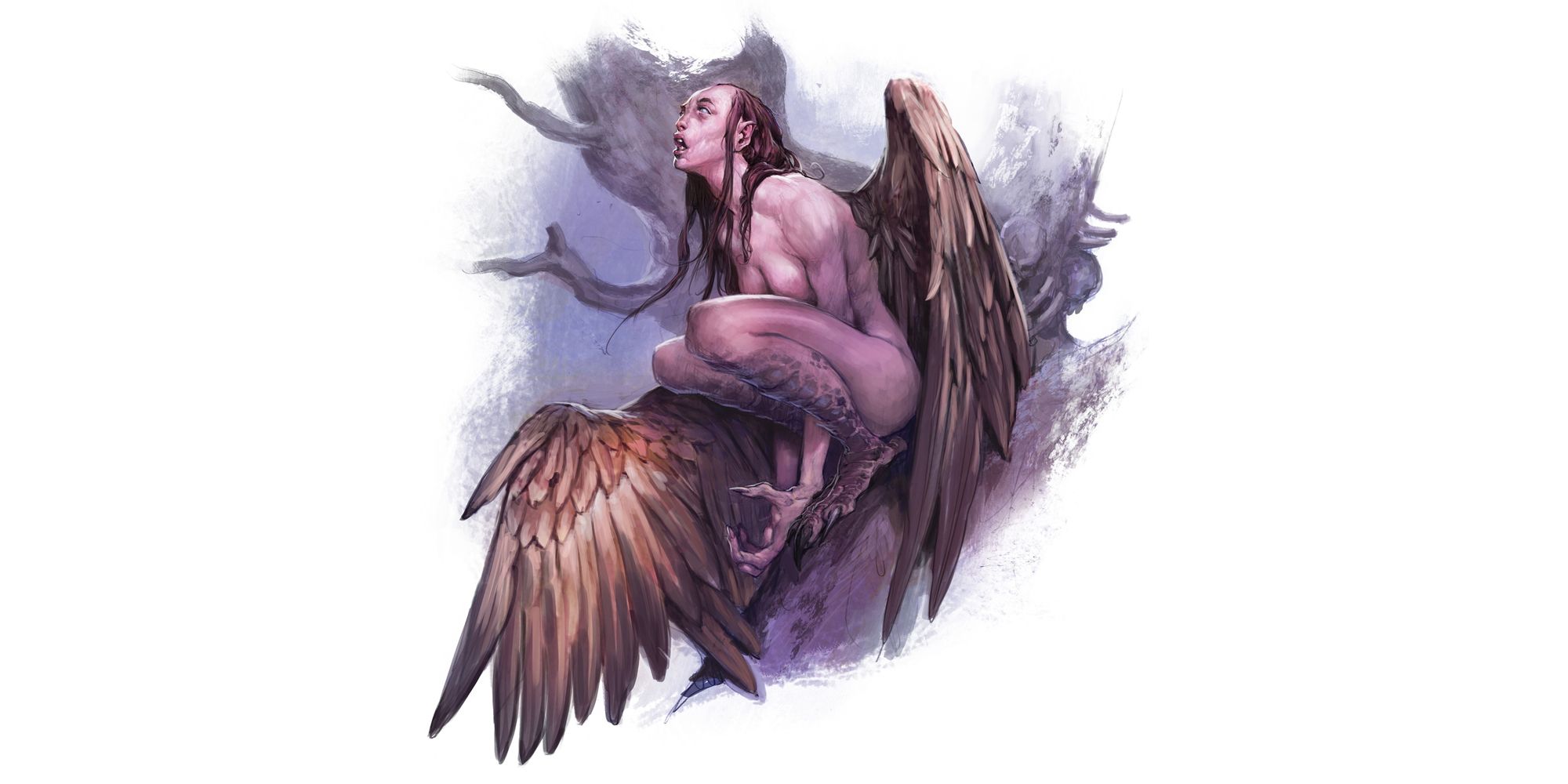 Sailors tell legends about the irresistible songs of the harpies, and the many seafarers who have succumbed to a grim end once the singing starts. Harpies are iconic monsters in many works of fiction, and they make for challenging and memorable encounters in your DnD game.
| | |
| --- | --- |
| Challenge Rating | 1 |
| Size and Creature Type | Medium Monstrosity |
| Notable Traits | Can charm multiple creatures with its Luring Song |
Although they only have a challenge rating of one, if your players fail to resist their luring song, an encounter with harpies can become extremely dangerous. Harpies are great monsters for low to mid-level parties, but with some adjustments, they can even be used against higher-level characters. For an even more aquatic flair, try homebrewing sirens from the harpy stat block; just replace their flying speed for swimming speed.
10
Merrow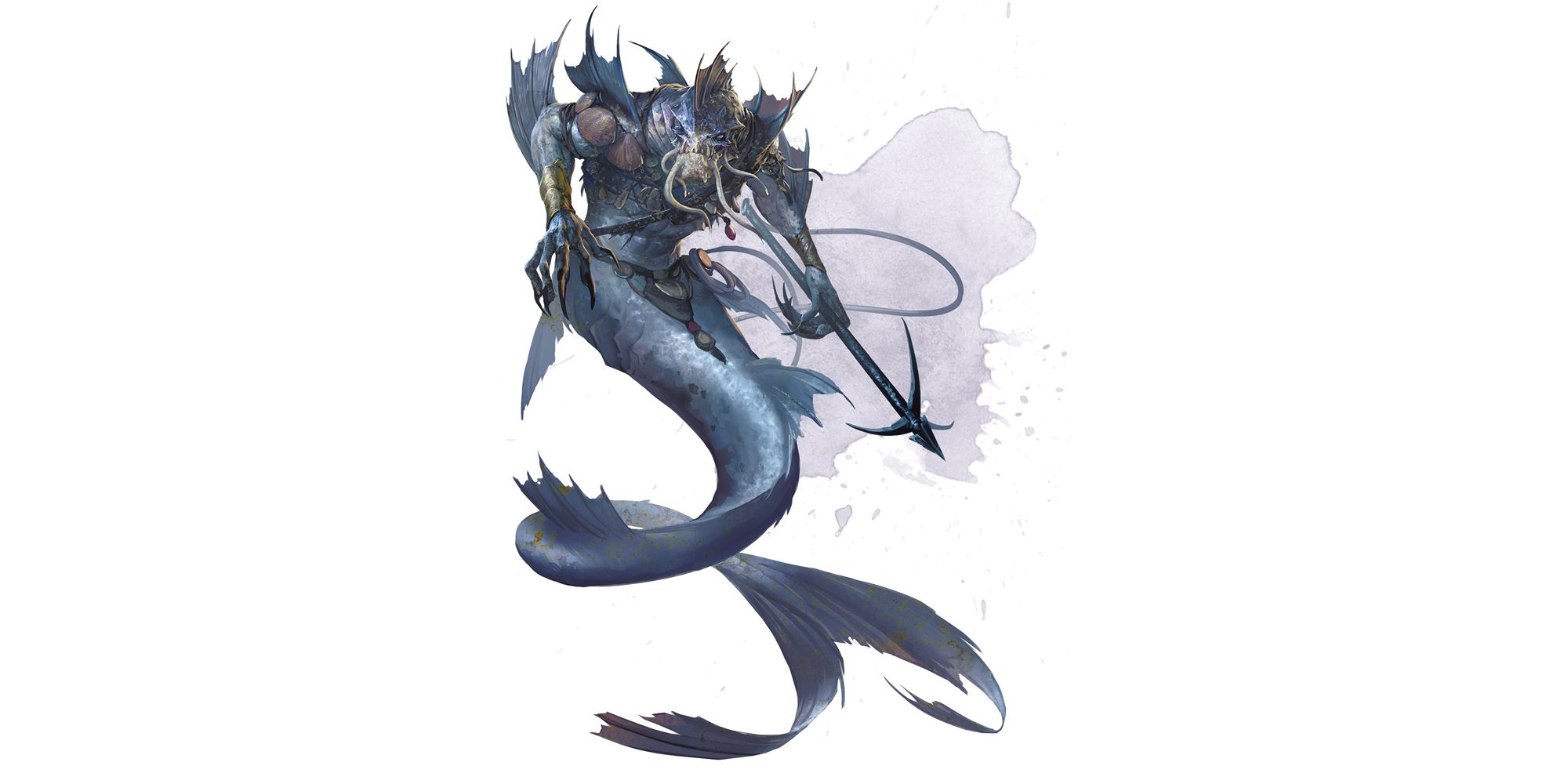 Merrows are the classic fish people in DnD, even before 5e. These large monstrosities hunt lost sailors, attack and capture ships with their fast swimming speed and their large harpoons, and are a constant threat in any aquatic campaign.
| | |
| --- | --- |
| Challenge Rating | 2 |
| Size and Creature Type | Large Monstrosity |
| Notable Traits | Able to pull creatures towards it with harpoon attacks |
Even though they are mostly an enemy for the early game, they can still be used very effectively in high levels as minions for stronger monsters. They can separate weaker party members with their harpoon attacks, and make them more vulnerable to more dangerous enemies in combat.
9
Wereshark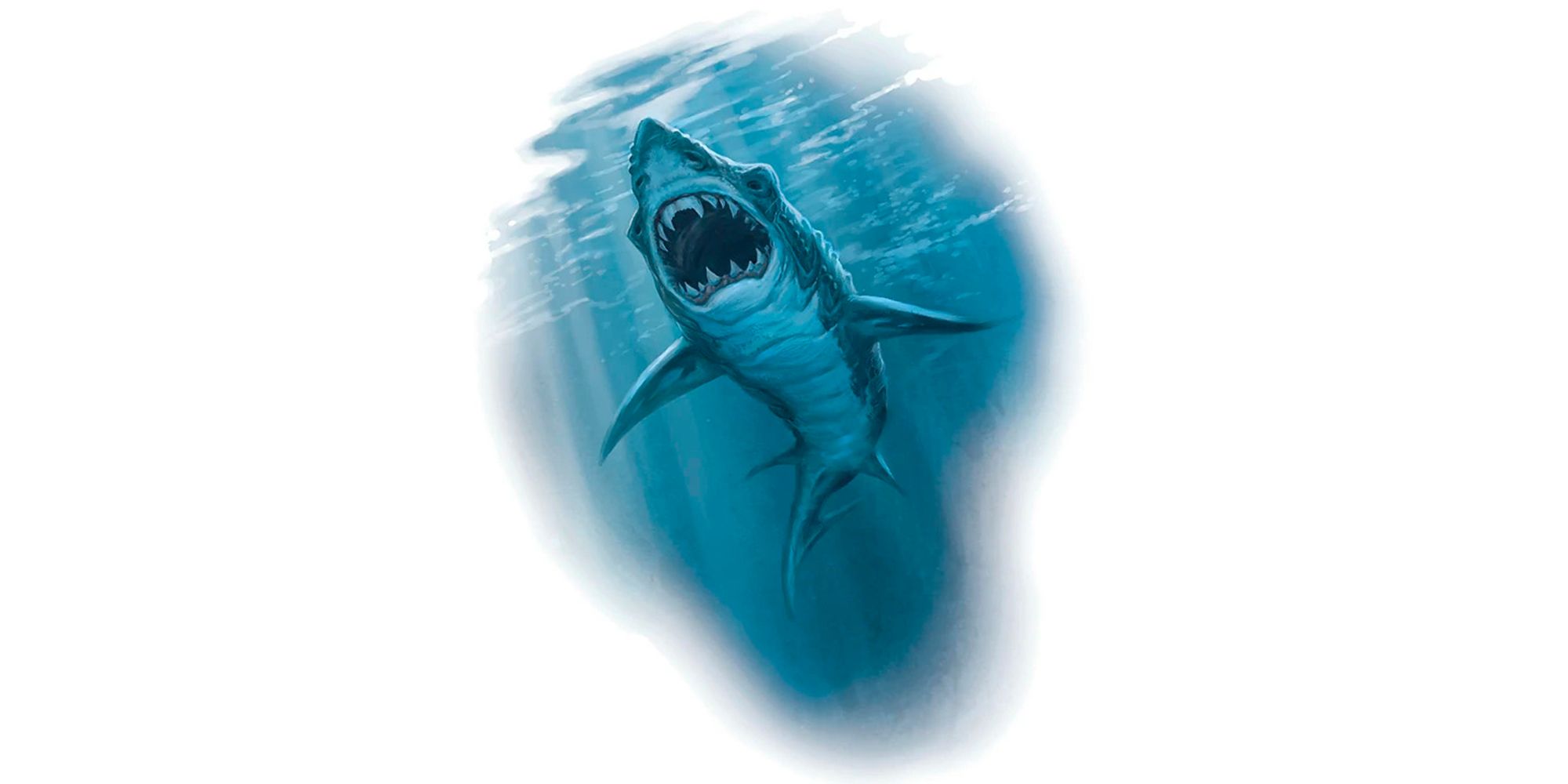 Lycanthropes are fascinating monsters to include in your DnD game, and if your game is set in an aquatic setting, then weresharks can be a great inclusion in your encounters. They can be menacing pirates, memorable NPCs, or terrifying hunters who roam the seas.
| | |
| --- | --- |
| Challenge Rating | 4 |
| Size and Creature Type | Medium Humanoid |
| Notable Traits | Can change shape to humanoid, hybrid, and shark forms Advantage on attacking damaged foes |
RELATED: Monsters From Dungeons & Dragons History That Still Aren't In 5th Edition
These lycanthropes can have a rich backstory and connection to important deities (so they can be an integral part of the game's story), as well as a challenging opponent for your players to face. With a challenge rating of four and unique abilities such as Blood Frenzy, they can be a challenging boss for low to mid-level parties.
8
Skum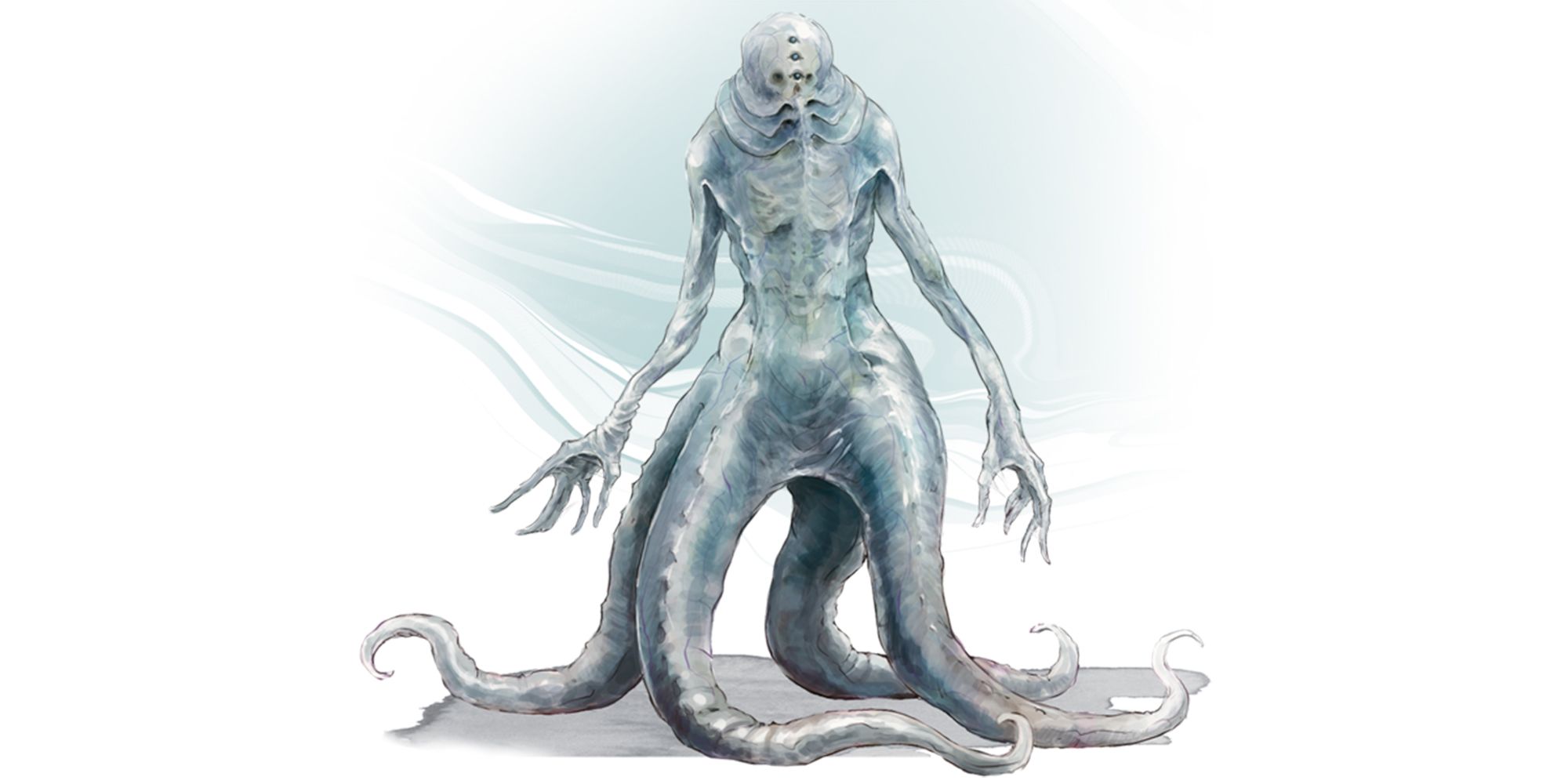 Some monsters are so powerful, that even their minions can be a challenge for most players. We will talk about the intimidating aboleth later, but their minions, skums, can be a challenging and terrifying encounter before your party has to come face to face with their master.
| | |
| --- | --- |
| Challenge Rating | 5 |
| Size and Creature Type | Medium Aberration |
| Notable Traits | Immunity to charm and fear Deals large amounts of psychic damage |
Even alone, a skum can be deadly with its Mind-Breaking Touch. But if paired with the aboleth, their abilities can give players disadvantage on their wisdom saving throws, making them more susceptible to the aboleth's charm.
7
Kraken Priest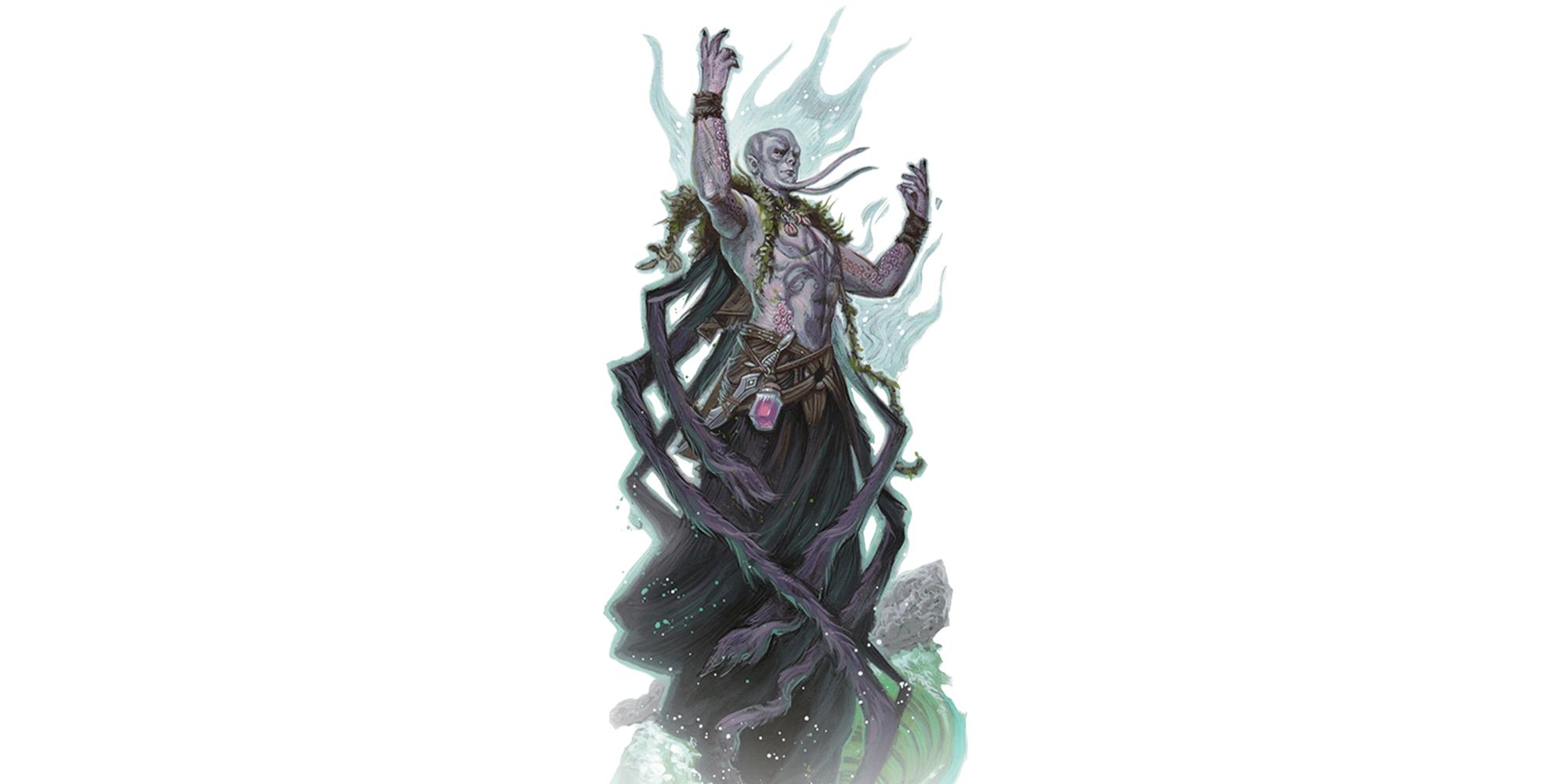 If your party is not ready to face the mighty Kraken, a Kraken priest is a perfect choice to give them a decent challenge, and a taste of what is to come. Unique to 5e, these worshipers of the legendary monster can be used alone or with a whole group of cultists and other sea monsters. They could command merrow to attack your players' ship if they get too close to the Kraken's lair.
| | |
| --- | --- |
| Challenge Rating | 5 |
| Size and Creature Type | Medium Monstrosity |
| Notable Traits | Innate Spellcasting Can channel the voice of the Kraken to frighten opponents |
They have powerful melee and ranged attacks that deal thunder and lightning damage, and have access to powerful spells such as control water or Evard's black tentacles to control the battlefield to their advantage.
6
Aboleth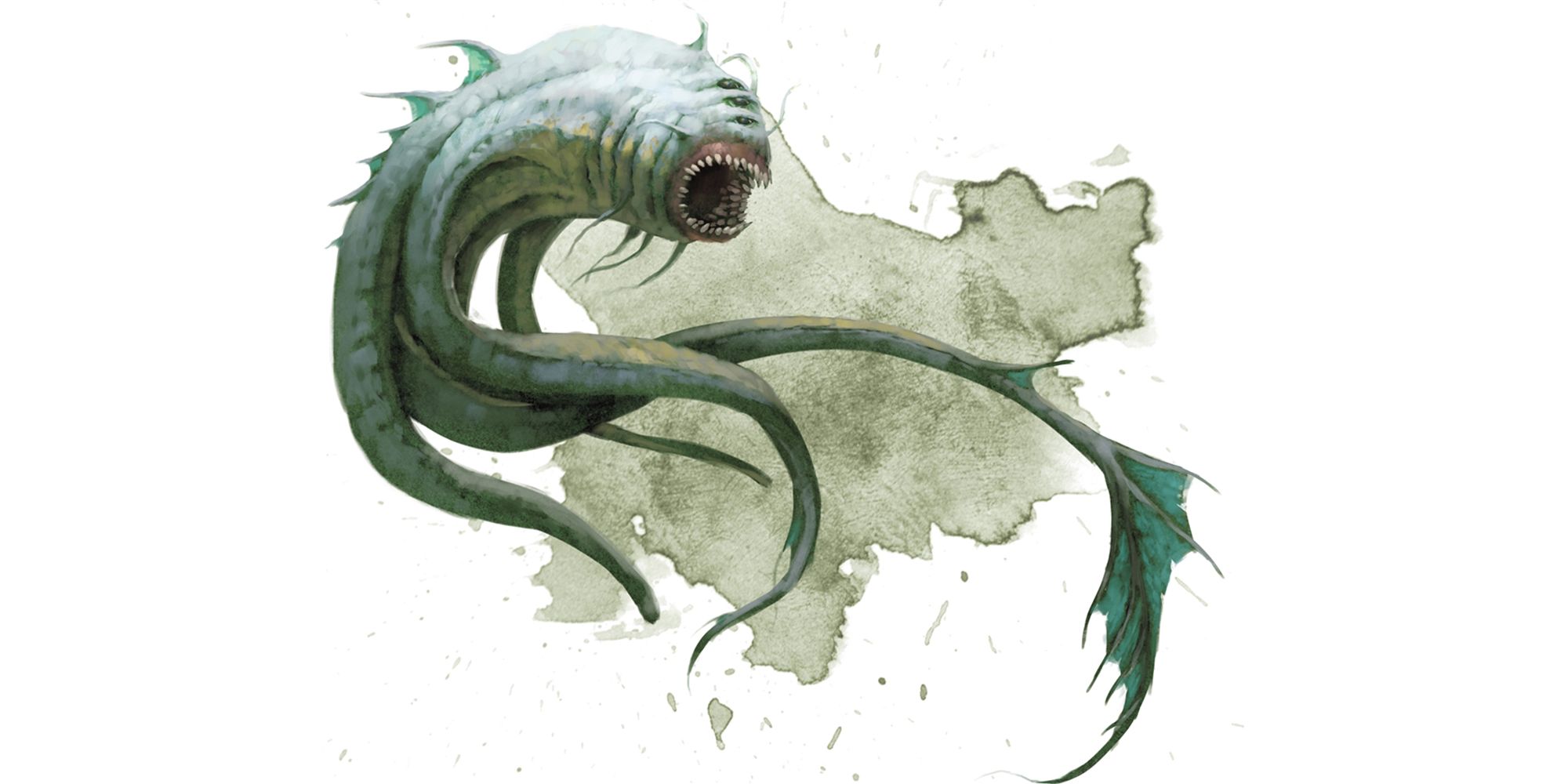 Aboleths are terrifying aberrations that live deep underwater. Their lair will affect a large area of the waters they live in, and discovering and killing an aboleth can be a complete adventure on its own.
| | |
| --- | --- |
| Challenge Rating | 10 |
| Size and Creature Type | Large Aberration |
| Notable Traits | Telepathic communication Ability to enslave creatures with a strong charm effect Can afflict multiple diseases that hinder the target's survivability outside of water |
With a strong charm effect, they can force other creatures to become their minions, as we saw an example with the skum. With the help of their minions, and their legendary and lair actions, aboleths can be great opponents for mid to high-level parties. Because of their high intelligence and telepathic abilities, they can even be the big bad evil guy of an aquatic campaign.
5
Marid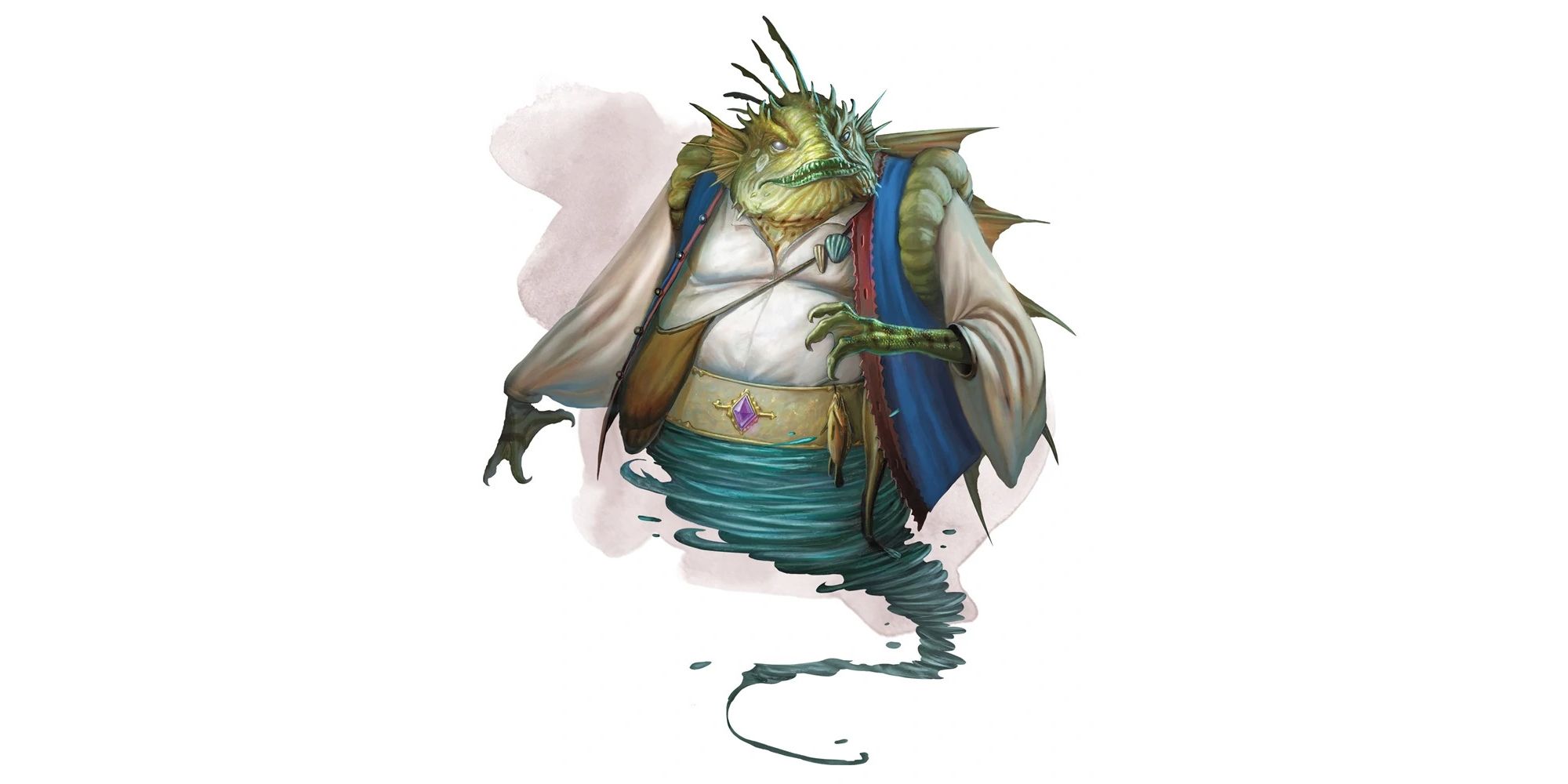 Genies are an integral part of any campaign that revolves around elemental planes, and if you are planning a campaign revolving around water, marids will be a natural fit. Water Genies can be unique and memorable characters for your players to face.
| | |
| --- | --- |
| Challenge Rating | 13 |
| Size and Creature Type | Large Elemental |
| Notable Traits | Deals cold damage to everyone in an aura Innate Spellcasting |
RELATED: Dungeons & Dragons: Awesome Social Encounters To Use In Your Next Campaign
As marids are not inherently evil, they can also be fun NPCs or allies to include in your game, but they are very capable of defending themselves if it comes down to it. With their high challenge rating, dangerous abilities, and powerful spell casting, they are a challenging foe to overcome even for high-level parties.
4
Wastrilith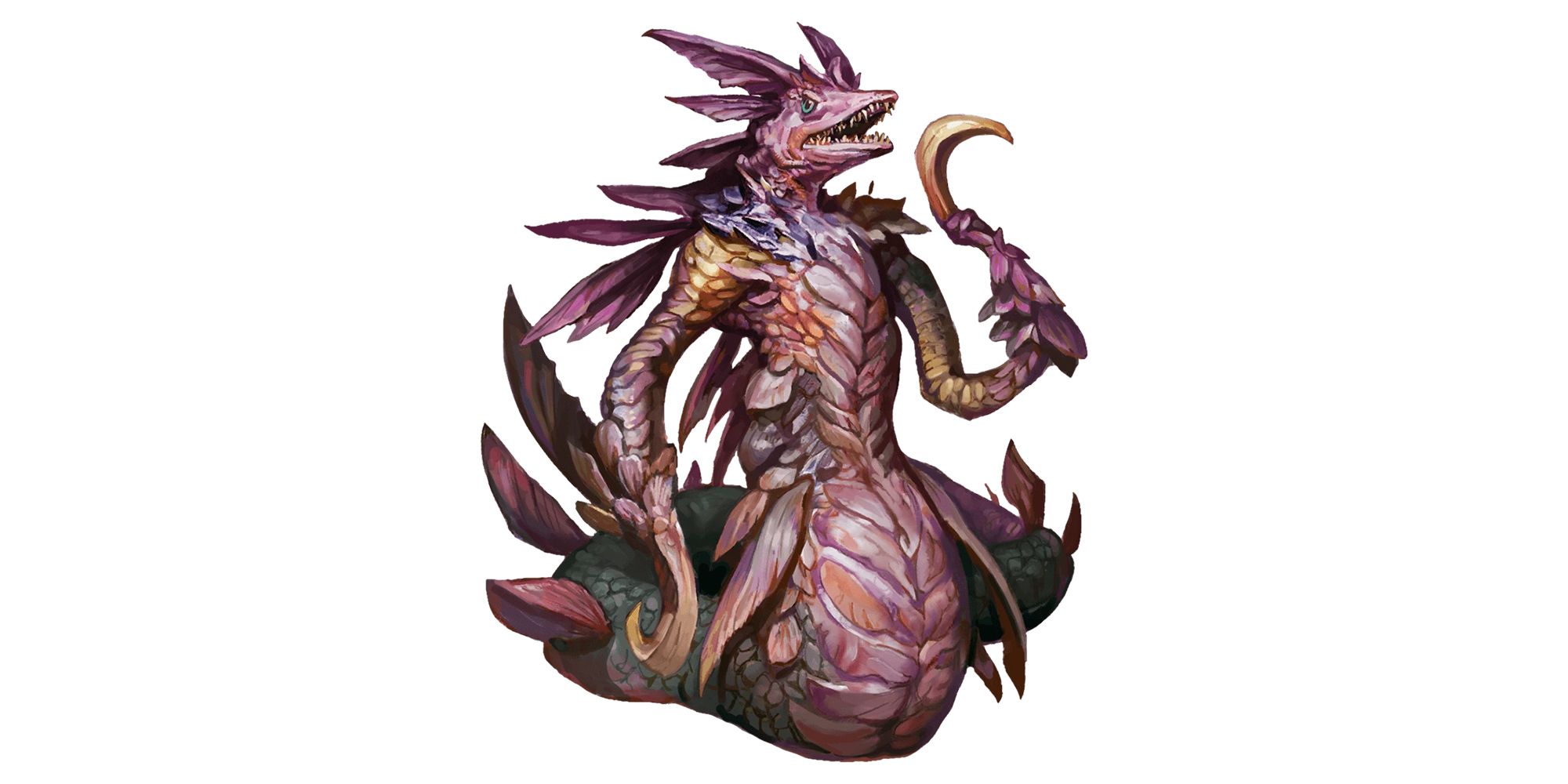 Wastriliths are demons who rule in the waters of the abyss or the depths that have been infected by the influence of the demonic realm. Whether you want to take your party on a deadly journey into the abyss or have them face the demonic wrath in their sea travels, the wastrilith is your guy.
| | |
| --- | --- |
| Challenge Rating | 13 |
| Size and Creature Type | Large Fiend |
| Notable Traits | Magic Resistance Immunity to Poison Can pull creatures towards itself |
With a challenge rating of 13 and some extraordinary features, wastriliths can be challenging bosses for high-level parties. They corrupt the surrounding waters, damaging every creature who swims in them and even healing other demons in the vicinity.
3
Storm Giant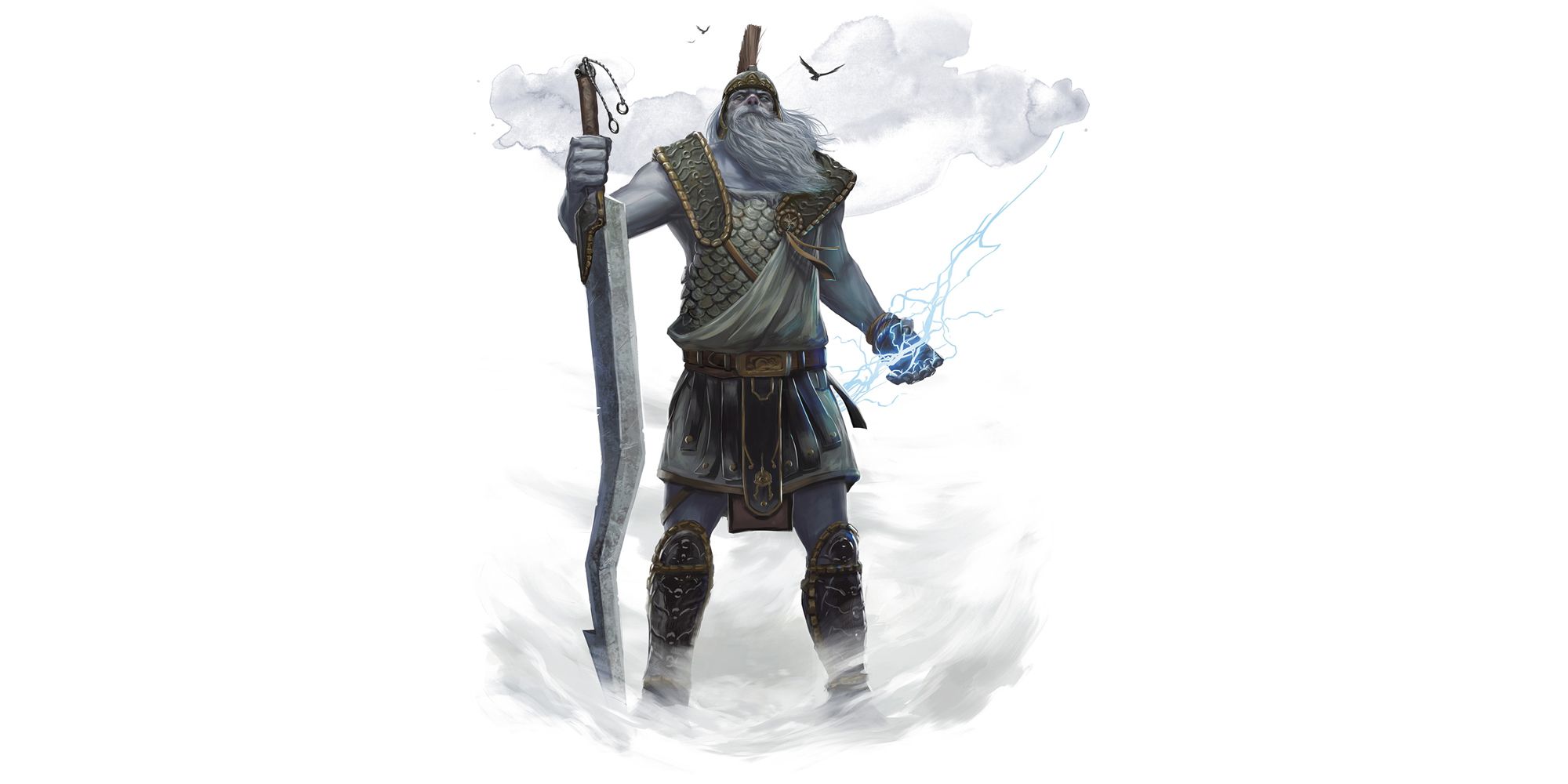 The adventurer's ship is stuck in a horrific storm. Through magic and fast decision-making, they manage to weather the storm and pass through, only to find a gigantic creature in the center of the fog. A storm giant who is controlling the rolling thunders and crashing waters.
| | |
| --- | --- |
| Challenge Rating | 13 |
| Size and Creature Type | Huge Giant |
| Notable Traits | Innate Spellcasting Lightning Strike |
Storm giants are the strongest giants in DnD. When it comes to the sea, they are one of the toughest creatures your party might come upon in their aquatic travels. Storm giants are also featured in one of the most popular DnD modules, Storm King's Thunder.
2
Dragon Turtle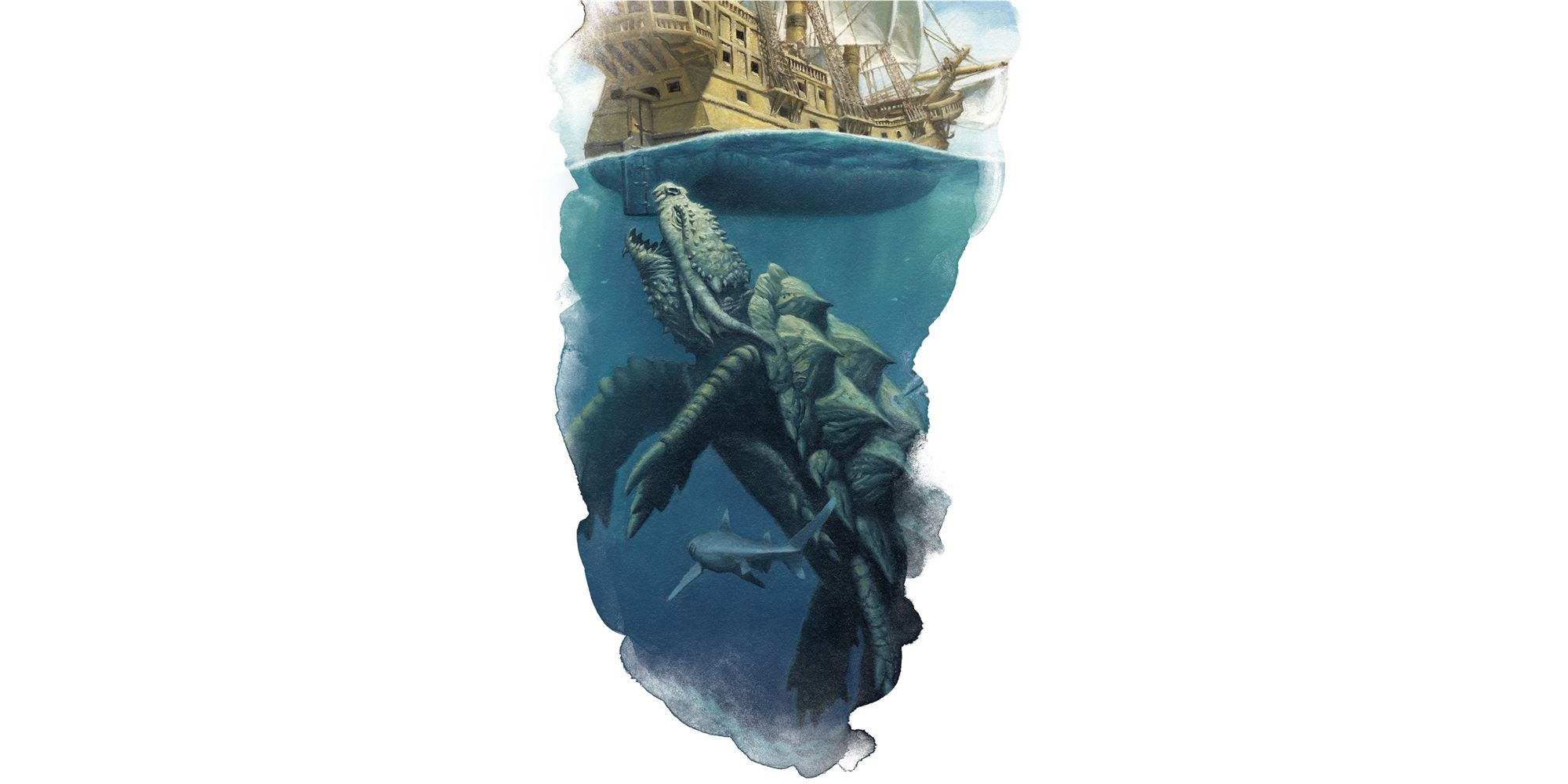 Fighting a dragon in its lair is one of the most exhilarating experiences you can have when playing DnD. But there's something that can be even more terrifying than a giant dragon in its home: a dragon turtle that can snap your ship in two within seconds.
| | |
| --- | --- |
| Challenge Rating | 17 |
| Size and Creature Type | Gargantuan Dragon |
| Notable Traits | Steam Breath |
Encountering a dragon turtle is usually just about surviving, but if your party decides to face this CR 17 monster head-on, they are in for a deadly fight. With a devastating steam breath, and powerful physical attacks, this gargantuan dragon can turn a ship to shreds and decimate unprepared adventurers.
1
Kraken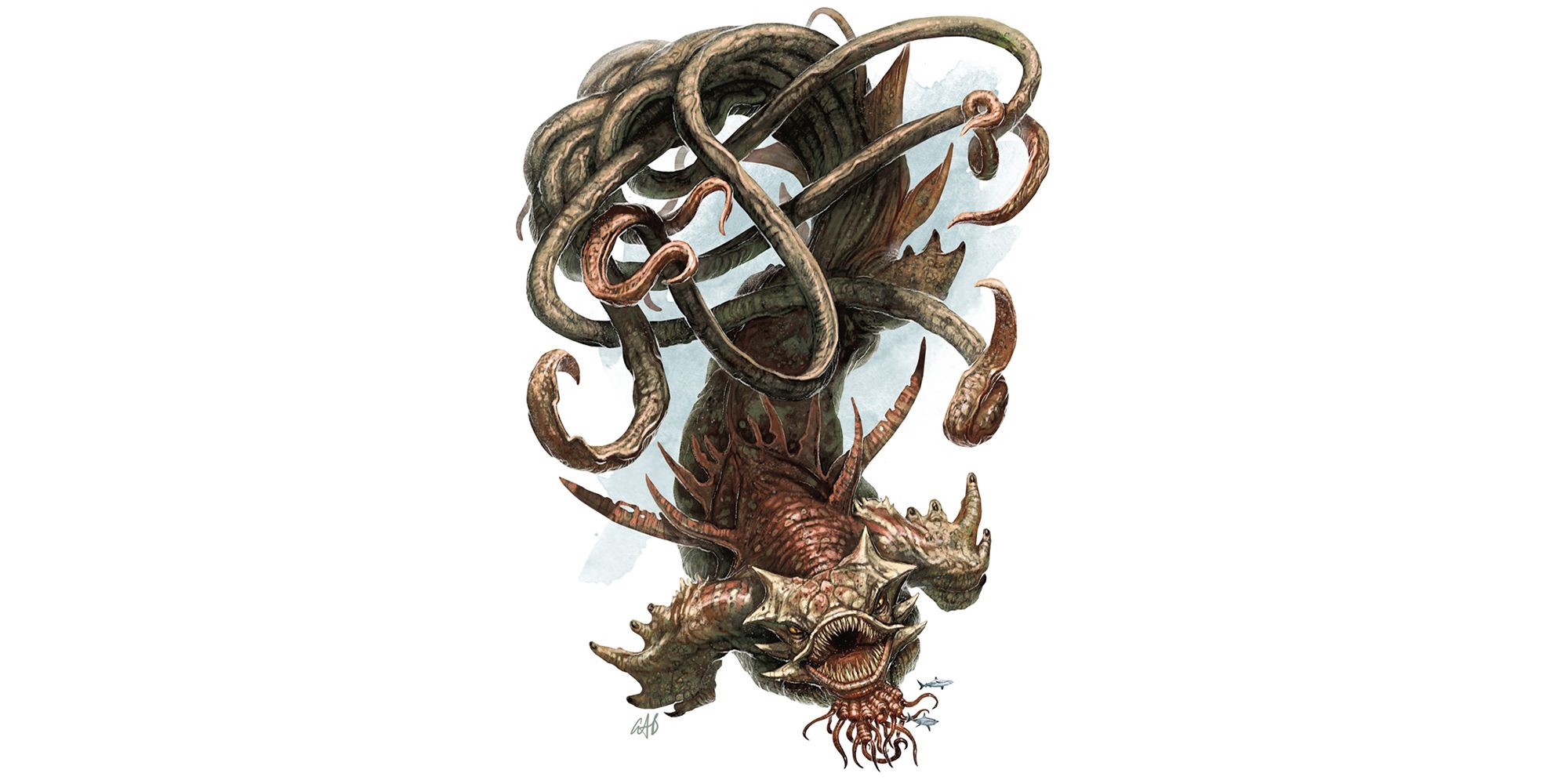 The most iconic monster in aquatic settings is without a doubt the legendary titan, the Kraken. Krakens are the tarrasques of the seas. They are the most powerful creature your party can face in the water, and the worst nightmare of sailors and adventurers alike.
| | |
| --- | --- |
| Challenge Rating | 23 |
| Size and Creature Type | Gargantuan Monstrosity (titan) |
| Notable Traits | Freedom of Movement Siege Monster Can strike 3 opponents with strong lightning bolts Can create an ink cloud that heavily obscures its surroundings |
With a challenge rating of 23, extremely powerful legendary and lair actions, and strong regional effects, Kraken can certainly put up a fight — even killing a Kraken can be the main plot of a high-level campaign. Water elementals roam around the Kraken's lair, and every sea creature within the vicinity is charmed by the titan to defend the area. Just getting to the Kraken's lair can take multiple sessions, and few will survive the final encounter to tell the tale.