NordVPN has added a brand new feature which is available to (almost) all subscribers, and it's included in your subscription, so you don't have to pay extra for it and you can start using it straight away.
It's called Meshnet and it's a bit like a remote-access app that allows you to easily connect two devices anywhere in the world.
Except it isn't just a remote connection: it uses NordVPN's NordLynx protocol and effectively lets you create your own NordVPN server. Instead of connecting to the internet via a NordVPN server as you usually would, with Meshnet, you can directly connect two devices together using an encrypted VPN tunnel.
Why would you want to do that? For one thing, it's an easy way to securely access files on a home PC from an Android phone or iPhone (or even other PC).
You could also use it to access other things running on a home PC such as a web server, without having to make that server internet facing.
Alternatively, you could use Meshnet to host online games without needing to faff around with port forwarding and all the hassle that usually entails.
Meshnet also allows you to route traffic through another device, for situations where you need to use another device's IP address to access the internet. NordVPN offers the example of routing traffic from your phone (while on holiday abroad) through a home laptop so you can access the internet as if you were at home.
However, if NordVPN has servers in your country, it's hard to imagine why you wouldn't more easily connect via those instead.
Admittedly, Meshnet is a niche feature aimed mainly at power users rather than those who use NordVPN primarily for unblock streaming services.
As you've probably guessed, the NordVPN app needs to be installed on all devices that are going to use Meshnet and, if you're connecting to devices that don't belong to you, your friends (or whoever owns those devices) will need to have a subscription as well.
You can link up to 10 of your own devices, and 50 external ones.
When enabled, Meshnet gives you a unique IP address (not the same as the one you'd get when connecting to a NordVPN server) and a special URL so you can more easily connect to remote devices without needing the IP address.
Meshnet is available on Windows, macOS, Linux, Android and iOS but – at the time of writing – it was only possible to route traffic via Windows and Linux machines. NordVPN is planning to add Macs to that list in the future.
How to enable NordVPN Meshnet
We'll cover Windows and iOS here: it's a very similar process on other platforms.
For Windows, follow these steps.
1.
Make sure you are running the latest version of the app.
It isn't shy about nagging you when an update is available, and you'll know if it's up to date or not because if it's old, you won't see the new Meshnet icon in the left-hand menu (arrowed).
Click on the icon.
2.
Click through the information screens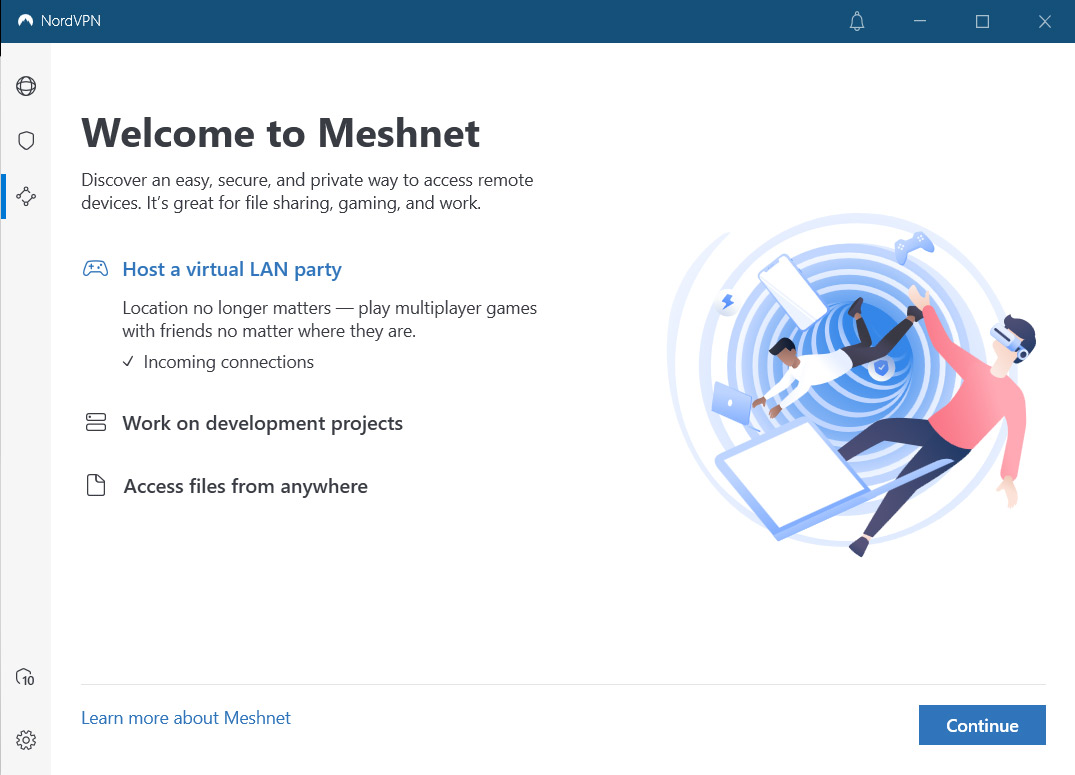 NordVPN
You'll see a couple of screens explaining Meshnet, so just click Continue to get through them.
3.
Understand the risks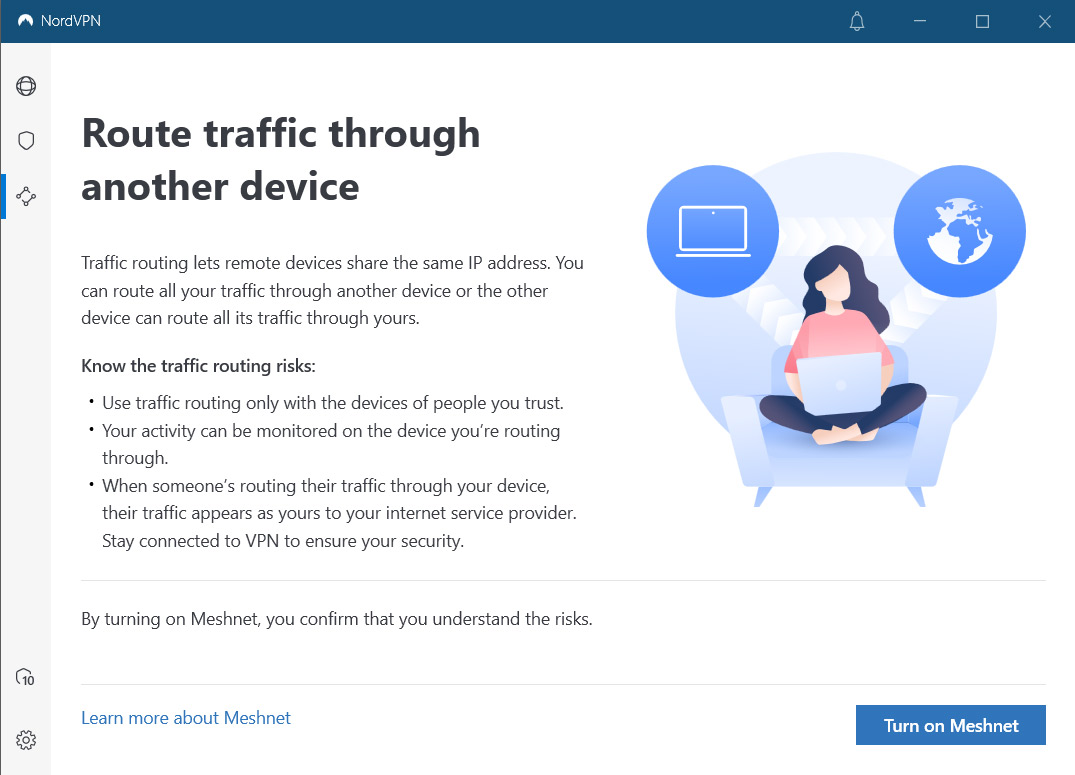 NordVPN
The final information screen outlines the risks of connecting via other people's devices, as well as letting them connect to yours. You should only use Meshnet with devices owned by people you trust.
If you're comfortable with this, click Turn on Meshnet.
4.
Link a new device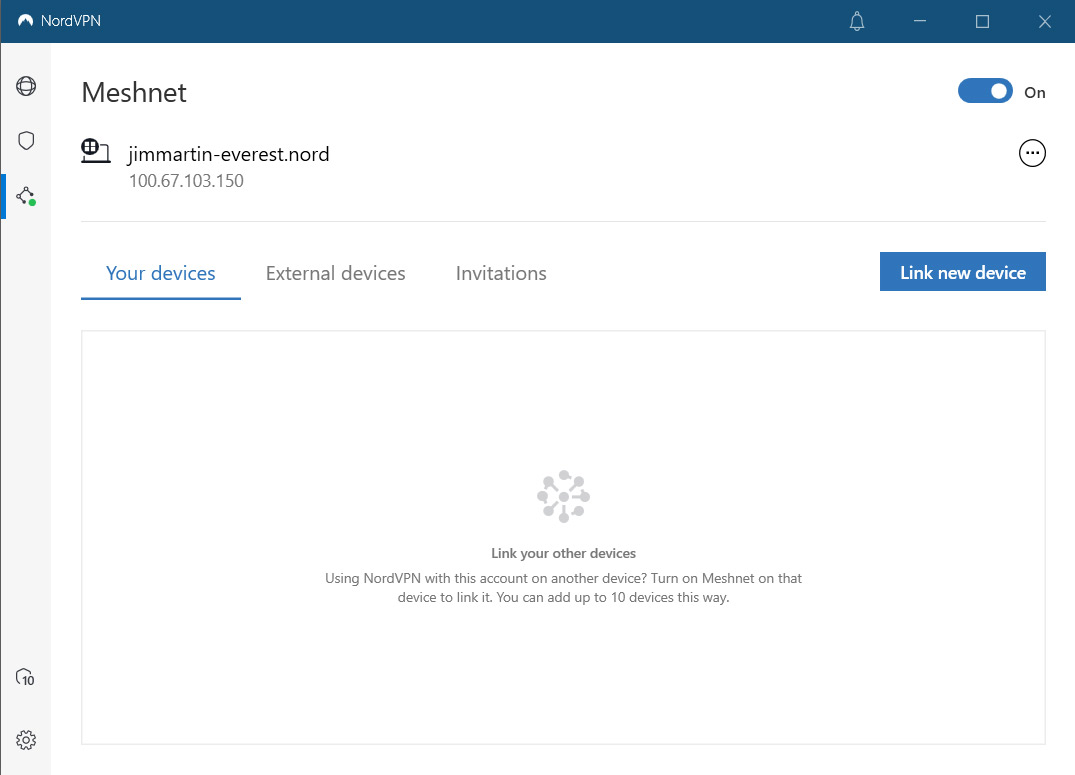 NordVPN
Now that Meshnet is turned on, you should see a screen like the one above, showing your personal URL which is specific to the device you're using.  There's also the IP address if you need to use that instead.
You now need to enable Meshnet on at least one other device and then link them together in order to actually use the feature.
5.
Enable Meshnet on an iPhone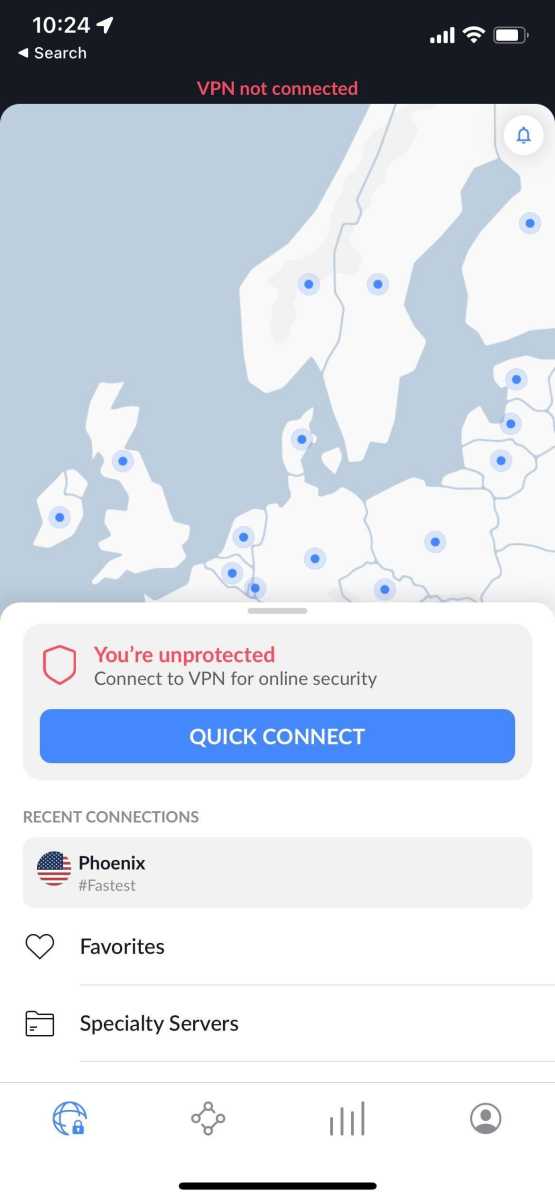 NordVPN
Again, make sure your NordVPN app is up to date and you'll see the new Meshnet icon at the bottom (second from left). Tap on it.
6.
Enable Meshnet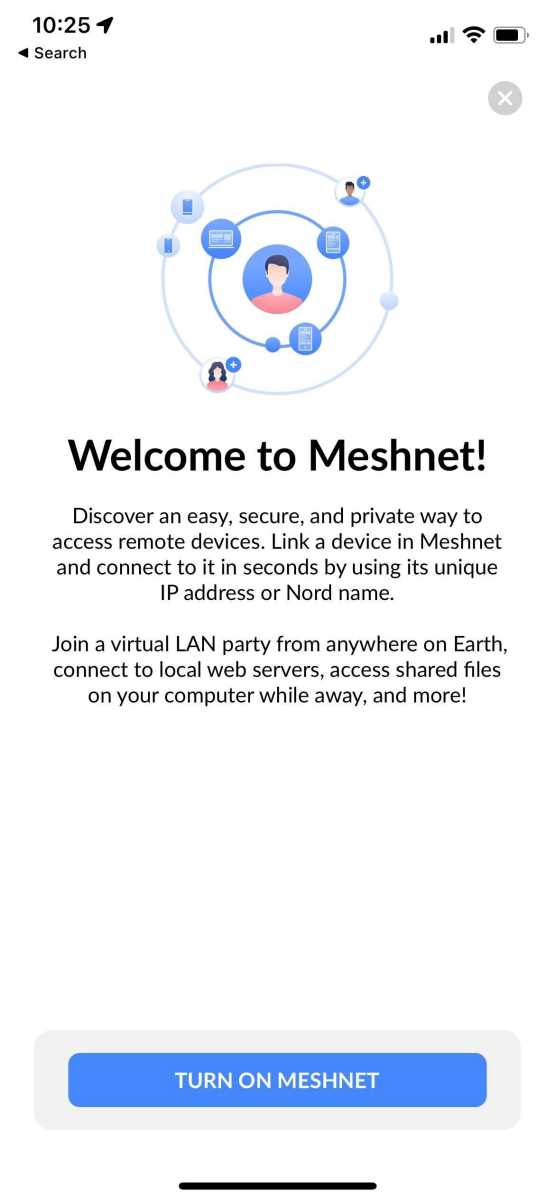 NordVPN
Simply tap the blue button to enable Meshnet.
7.
Turn on Meshnet
NordVPN
Now, you'll see a toggle that lets you turn on and off Meshnet. It's off by default, so tap the toggle to turn it on.
8.
Switch to NordLynx
NordVPN
On iPhones, the default protocol for NordVPN is IKEv2 and Meshnet uses NordLynx, so you'll probably see a prompt to Reconnect & Continue.
9.
Note your Meshnet name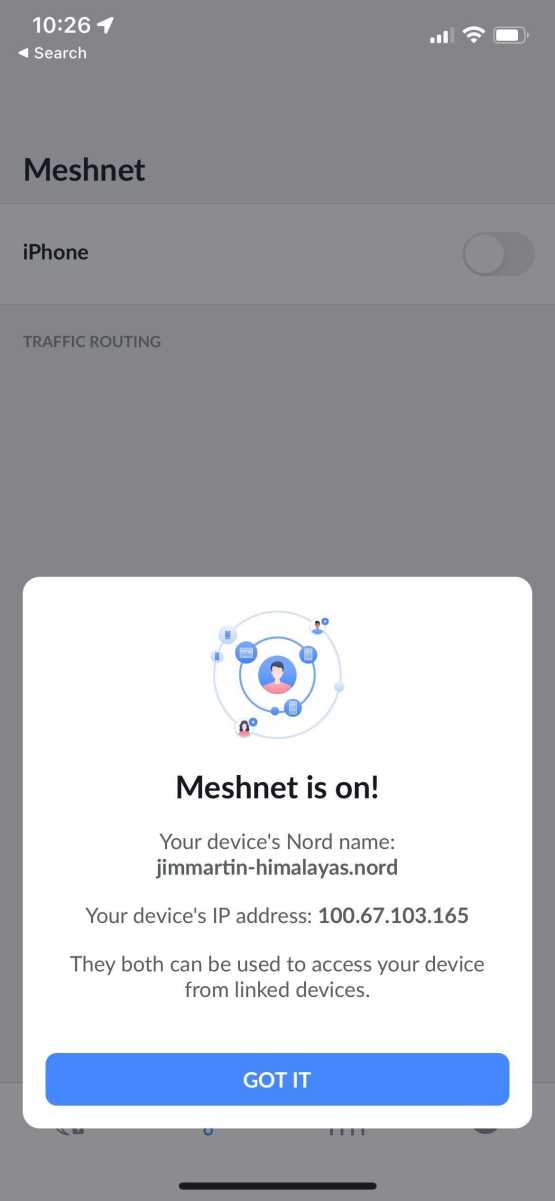 NordVPN
You should now see a message confirming the Meshnet is on, along with your device's unique name and IP address.
Tap GOT IT When you've noted down those details.
10.
Link it to another device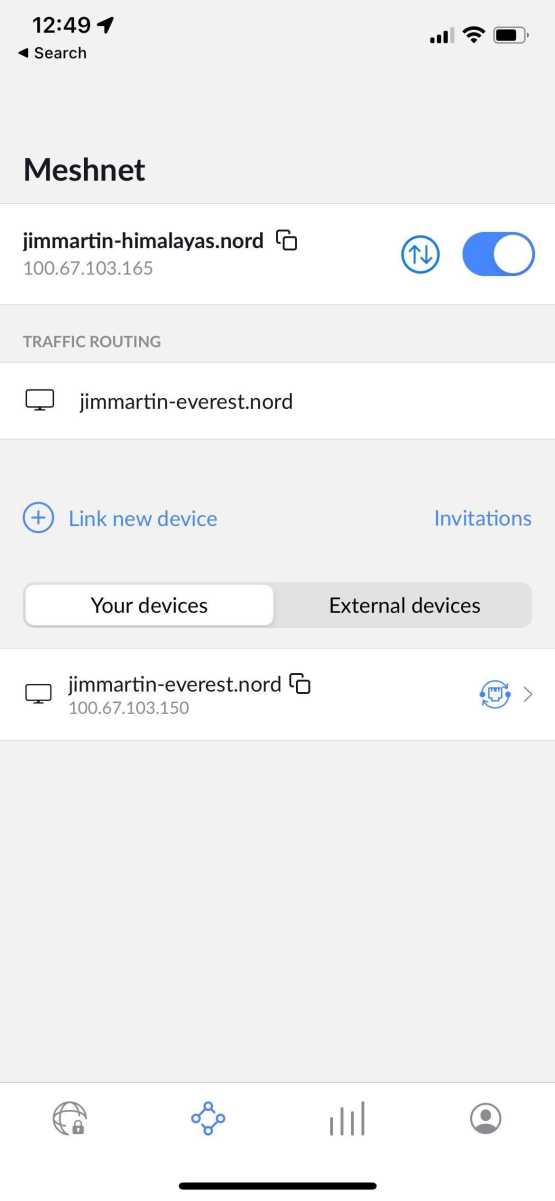 NordVPN
You should now see a screen like the one above. Under Your devices, you should see the computer you set up with Meshnet first – if you've followed all the steps in this guide.
You shouldn't need to link this with your phone as any devices under your NordVPN account are linked automatically.
11.
Invite someone else to connect on Meshnet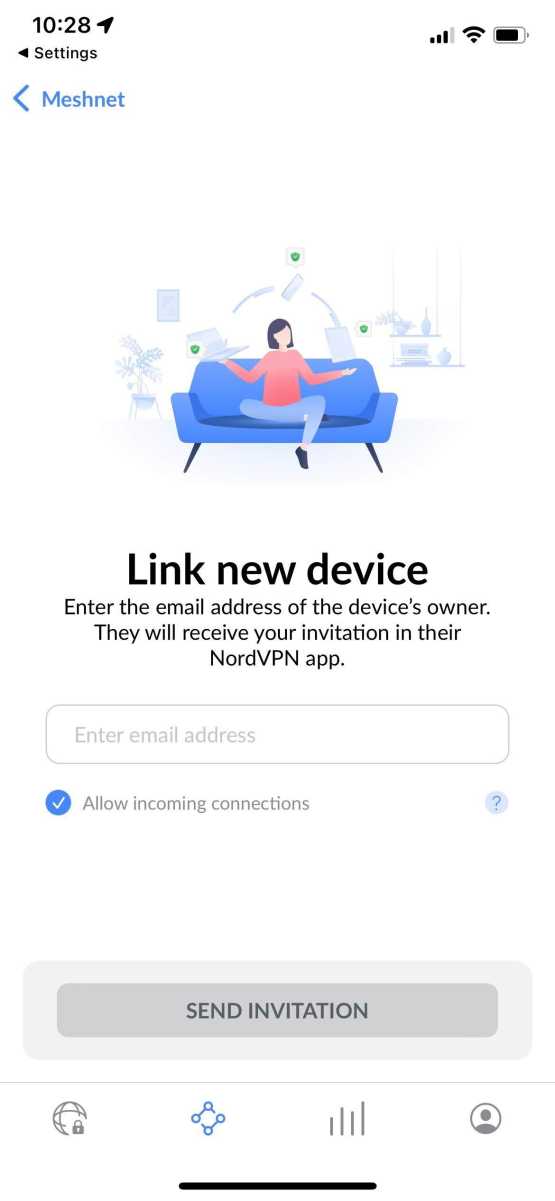 NordVPN
Regardless of the device  you're using, there will be a "Link a new device" button or option in the Meshnet tab. Click or tap on it and you'll see a field where you can enter an email address. This needs to be the one associated with the person's NordVPN account.
They'll then see this invitation in their NordVPN app.
Before you press the Send invitation button, make sure you uncheck "allow incoming connections" if you don't want their device to connect to yours. You can change this option later.
If you're on Windows or Linux, you'll also see an Allow traffic routing tickbox. Again, uncheck this if you don't want the other device to be able to route its connection through yours.
How to use Meshnet
Now the devices are linked, it's really up to you how to use that link.
If you wanted to host a game server, you just need to give others your Meshnet name (such as jimmartin-everest.nord) or your Meshnet IP address so they can enter that into their game and connect to your server.
We can't provide precise instructions for this, as each game differs in how it displays multiplayer options.
Similarly, specific instructions for remotely accessing files are outside the scope of this article, but if you wanted to access files (or photos) from a Windows PC or laptop using your Android phone or iPhone, you'd need to use Windows File Explorer to select the file(s) you want to make available and use the Share option to configure this.
On your phone, you'll need a file explorer app which can connect to remote devices, and you'd need to enter that Meshnet name or IP address into that app to see the shared files.
Although enabling Meshnet is fairly straightforward, setting up file sharing and hosting games can be quite difficult. 
Meshnet isn't for everyone, and you need a good reason to use it.
For many people, an easier way to access files and photos from anywhere is simply to use a cloud storage service.