Amazon's Fire TV Sticks are popular for good reason. They're inexpensive and make it easy to watch Amazon Prime Video, Netflix, Disney+, YouTube and other streaming services on any TV, or even a projector or computer screen.
The only snag is that some videos might not be available in your region. That's nothing to do with the Firestick: it's simply that some shows and even entire streaming services are restricted to certain countries because of licensing. For example, BBC iPlayer is only available in the UK.
You can get around these restrictions by using a VPN. This can make it appear that you're in a different region to your real one, meaning you can watch videos that were previously blocked and see shows that don't appear without the VPN.
For example, NCIS won't show up in Netflix search results when you're in the UK. But connect to a VPN server in the US and you can watch it.
Do bear in mind you'll still need a subscription Netflix (and other paid-for services) to watch videos not normally available in your location. And do take note that others, such as Amazon Prime Video, are tied to the region in your account settings, so using a VPN won't expand the selection of videos when you connect to a VPN server in another country.
Which VPN is best for Fire TV Stick?
The first thing to do it choose a VPN service. We've rounded up the best VPN services for the Fire TV.
Although there are free VPNs, none are much good for unblocking video. Either they won't let you connect to a server in the country you need, or they severely restrict the amount of data per day. Some simply don't give free users access to servers that unblock video services.
The good news is that the best VPN services can be very affordable. You can subscribe for a month, which might be long enough to watch what you want, but you'll pay less per month if you sign up for one or more years.
We recommend NordVPN, which is an app in the app store on your Fire TV just waiting to be installed. All you need is a 2nd-generation Fire TV Stick or newer. So as long as yours is less than seven years old, you'll be able to install your choice of VPN.
How to install a VPN app on a Fire TV Stick
1.
Sign up for an account
If you don't already have an account with the VPN service you're going to use, then create one on your laptop, PC or even a phone as it's much easier than using the on-screen keyboard with the Fire TV remote.
Also, even though NordVPN lets you sign up via the app, some services don't, and you'll get a better price by going to the VPN's website. You can sign up for NordVPN here.
TIP: Subscribing for one or two years means a cheaper overall price. Also, NordVPN will direct you to its Complete plan, but this includes more than just the VPN, so opt for Standard.
2.
Go to the app store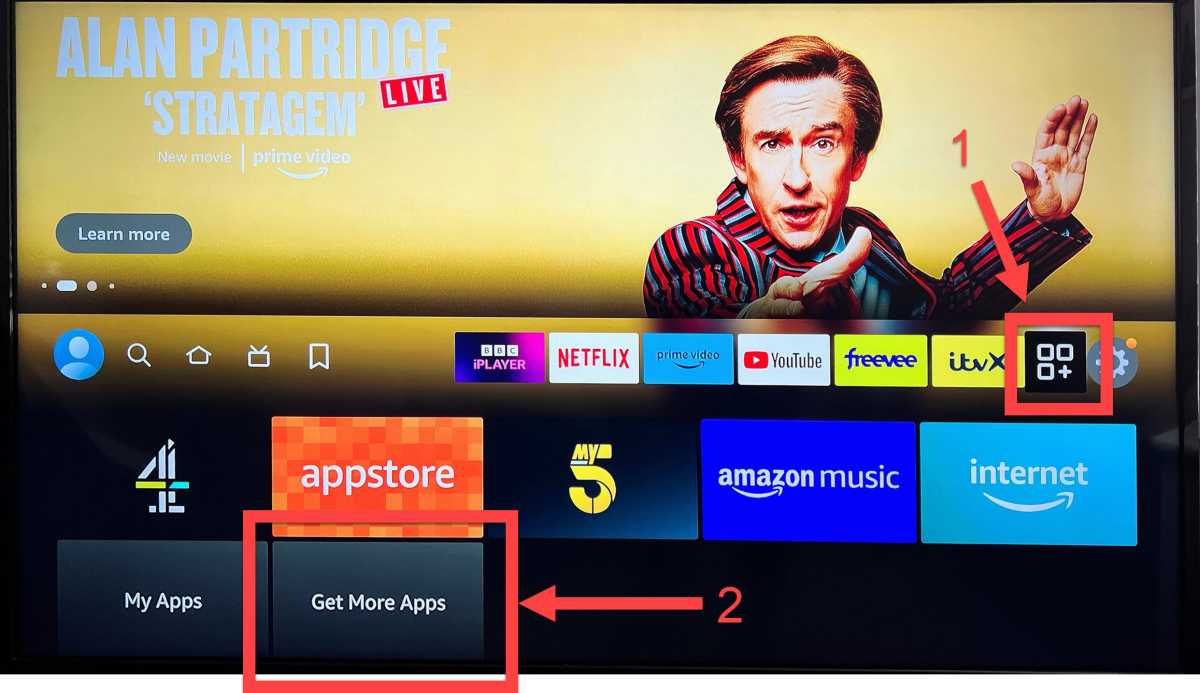 Jim Martin / Foundry
Once your account is set up, go to your Fire TV and click on the apps icon (marked 1) and then on Get More Apps.
3.
Search for NordVPN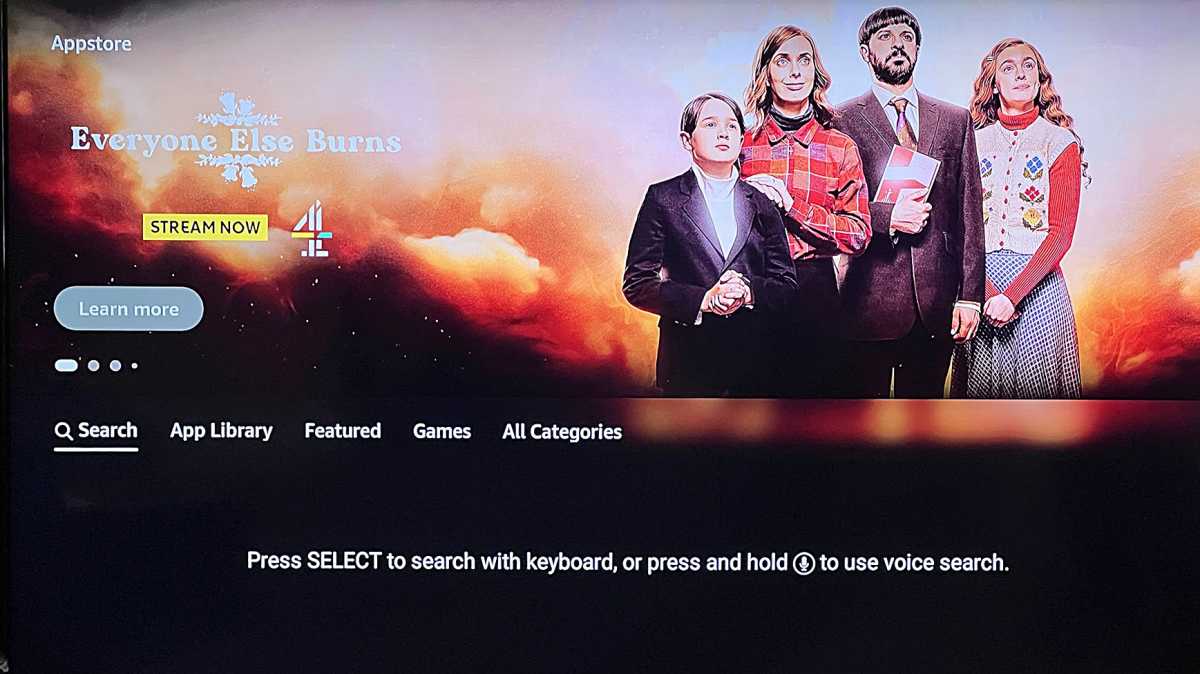 Jim Martin / Foundry
Select Search with the remote control and press the select button.
4.
Type or speak
Jim Martin / Foundry
Either use the on-screen keyboard to search for Nord, or press your remote's microphone button and say "NordVPN". Then select Nordvpn from the list of results with the remote control.
5.
Select NordVPN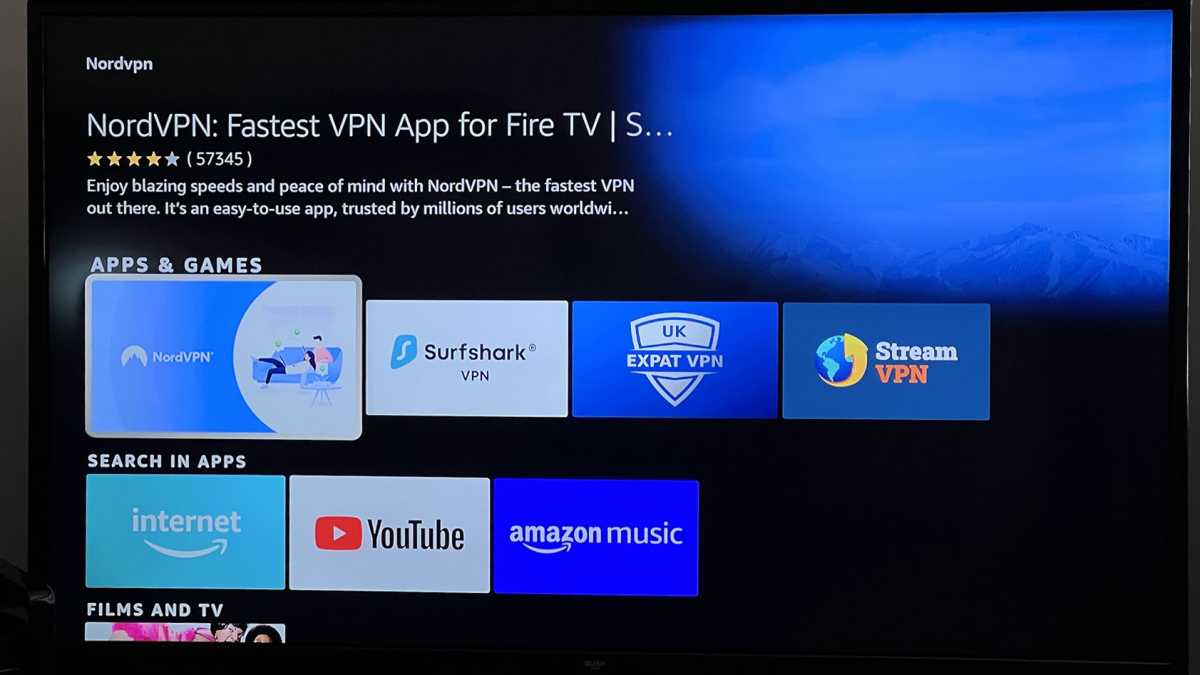 Jim Martin / Foundry
When the list of apps matching your search appear, use the select button on your remote to click on NordVPN – highlighted above. Installing the app is as simple as clicking the 'Get' button and waiting for it to change to Open. Press the select button on your remote to open NordVPN.
6.
Log in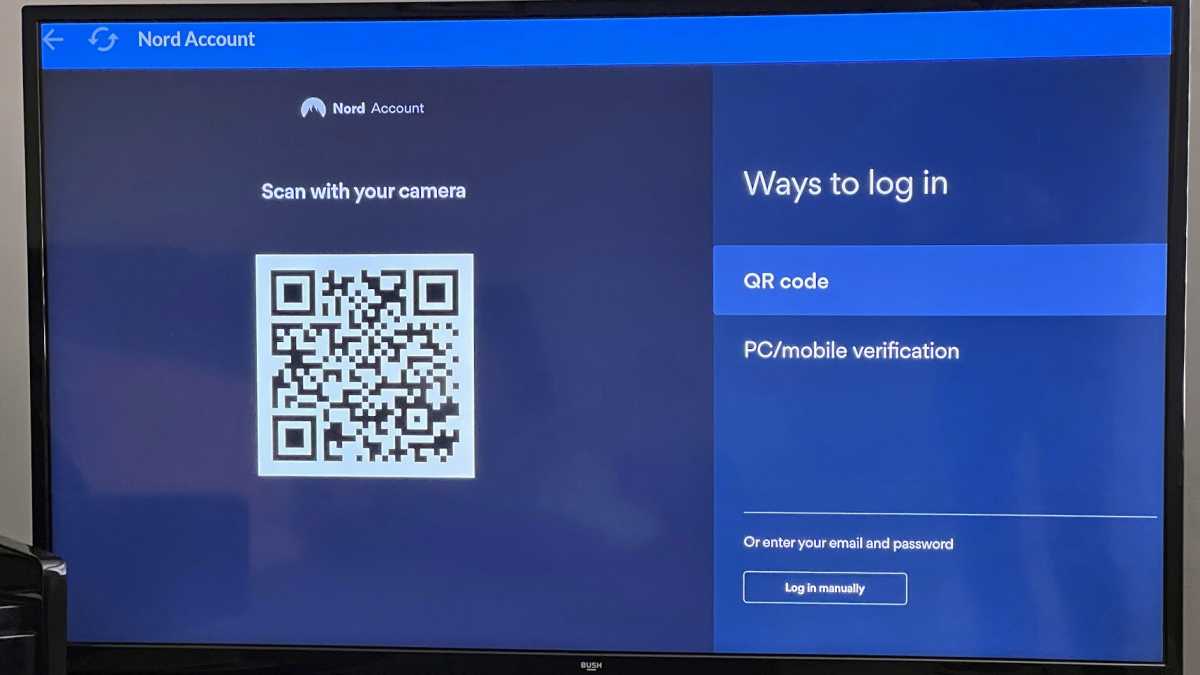 Jim Martin / Foundry
Choose a way to log in. It's easiest to point your phone's camera at the QR code (using the normal camera app) and it should bring up a link to tap on which will open the NordVPN website on the login screen. But you can also use the Log in manually button if you don't mind using your remote and an on-screen keyboard.
7.
Choose a server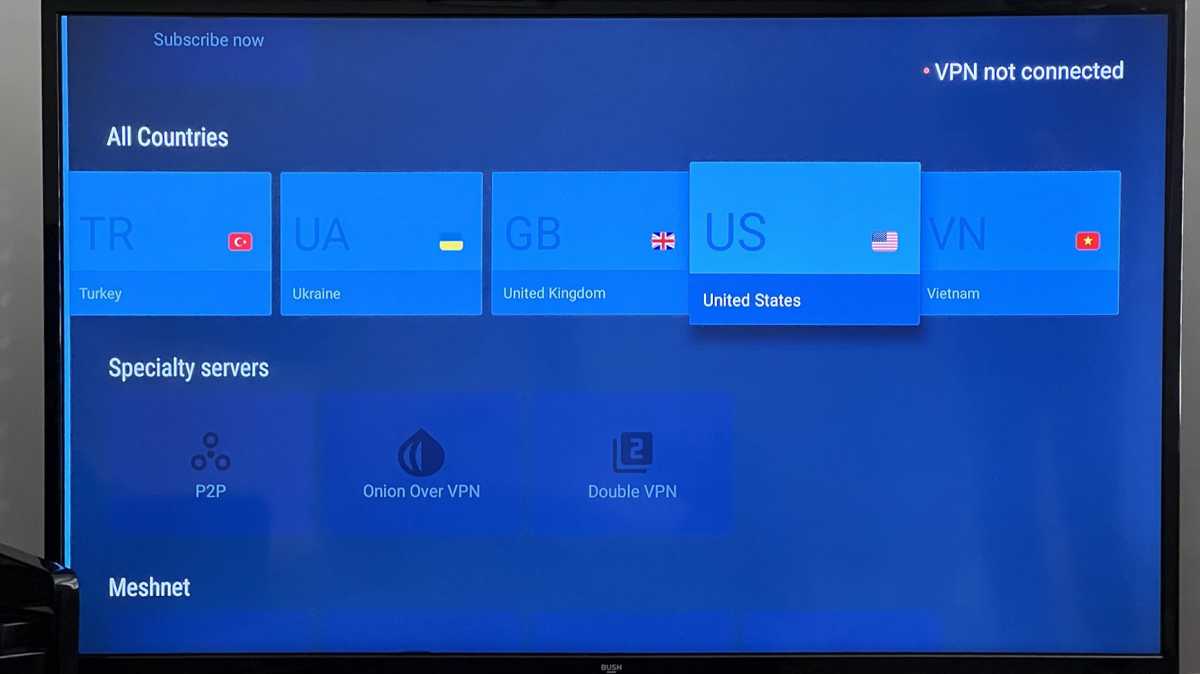 Jim Martin / Foundry
Once logged in you can select a country. Pick the one where the video or streaming service is available. For example, if you're trying to watch BBC iPlayer you will need to select UK. For Netflix US, choose the US. Scroll to the server you want and press the select button on the remote. You will see the status change from VPN not connected to VPN connected, with a green dot.
TIP: When you see a prompt to set up a VPN connection, click OK to all NordVPN to set this up on your Fire TV.
Now you can press the home button on the remote to go back to the Fire TV's main menu.
Then launch iPlayer, Netflix or whichever app you want to stream from and you should find that you can now watch videos which were previously blocked. As far as that service is concerned, you're now located in whichever country you chose in the VPN app.
How can I use a VPN service that doesn't have an app?
If you're willing to do some extra legwork, it's possible to use other VPN services with the Fire TV even if they don't offer an app in the store.
One way is to find the Android .apk file for the app you want and side-load it onto the Fire TV Stick. Often you'll find this made available direct from the VPN provider's website, which is the safest place to get it.
The snag is that you might have to create a short link to save having to type in the full URL of the .apk file using the Fire TV's remote control. We recommend tinyurl.com for this. It's free and doesn't ask you to create an account. You'll need to do this on a PC or laptop first.
On your Fire TV, use the search function and search for 'Downloader'. You can install the Downloader app which is necessary to download the .apk file.
Run Downloader and enter the tiny URL you created earlier. The VPN APK file will download and you should see a prompt to install it. After that, it's the same process as before: launch the app, sign in with your details (create an account with the VPN service on your PC or laptop if you haven't already done so).
Just bear in mind that the app is likely to have been designed for a phone screen, not your TV, so may appear sideways.
Pick a server in the country in which you want to stream video, and enable the VPN connection.
With any VPN running, your IP address will show you as being located in the country you've selected and you should be able to access all content that's available there.
Related articles for further reading