The FIFA series is one of the longest-lasting in the whole gaming universe and is – at the time of writing – about to change its name to EA SPORTS FC, so before you say goodbye it's time to see where this entry lacks, and what could've been done to improve it.
Related: FIFA 23: Ultimate Teams Beginner's Tips And Tricks
Now that you're thinking about bringing your favorite team to the heights of the league, you might want to know what your headaches will be mid-game. With an extreme reliance on microtransactions, slowed-down gameplay, and pretty odd-looking real-life managers to pick from. EA has a lot to do before releasing its self-titled football game and being recognized as the greatest football simulator maker out there.
10/10

Repetitive Cutscenes In Career Mode
Career Mode had decent upgrades in FIFA 23, but unfortunately, not enough to make a dent in the public perception. With a very slim variety of cutscenes in Career Mode, you wonder why many people would opt for different modes to play.
Related: FIFA 23: Best Players Ratings
Unfortunately, this is the favorite mode to play by offline players for its RPG-esque qualities, bringing forward a story with a team you have brought up the league charts. Sure, EA is going to change up next year, but let's hope they invest a bit more into the immersion of Career mode.
9/10

Pushing FUT Too Much
The only thing that seems easy to access in the FIFA menu is the FUT. FIFA Ultimate Team mode has been improved and made more accessible to many that wouldn't comprehend the mode, but still, it's in your face so much that you might not even want to open it.
Also, if EA keeps pushing FUT in the menu and forgets to advertise the changes to a wider audience, why would anyone click on it?
8/10

Leaving All The Other Modes In FUT's Shadow
This is closely related to the last entry – with FUT being the most important mode for the EA team, you can imagine how much budget they allocated to it. As we've said before, the AI in Career mode is lacking and the cutscenes are repetitive, making you want to skip them after the first couple of times and its a shame with all the formations you can pick from.
EA needs to budget its next entries differently. Even do this is a standard for the company across genres, a game with multiple (well-budgeted) modes can surpass any football simulator competition.
7/10

Slowed Gameplay

With a game like FIFA, you would expect the gameplay to be on the quicker side compared to the competing games on the market. A standard measurement for evaluating which between the EA series and the Konami series to pick from was the pace.

In FIFA 23, pace is slowed down a little too much. With impressive additions like the new Power Shot, it's a shame that the rest of the match has to be so slowed down. Hopefully, this won't stifle EA's future rep.
6/10

Passing Is Clunky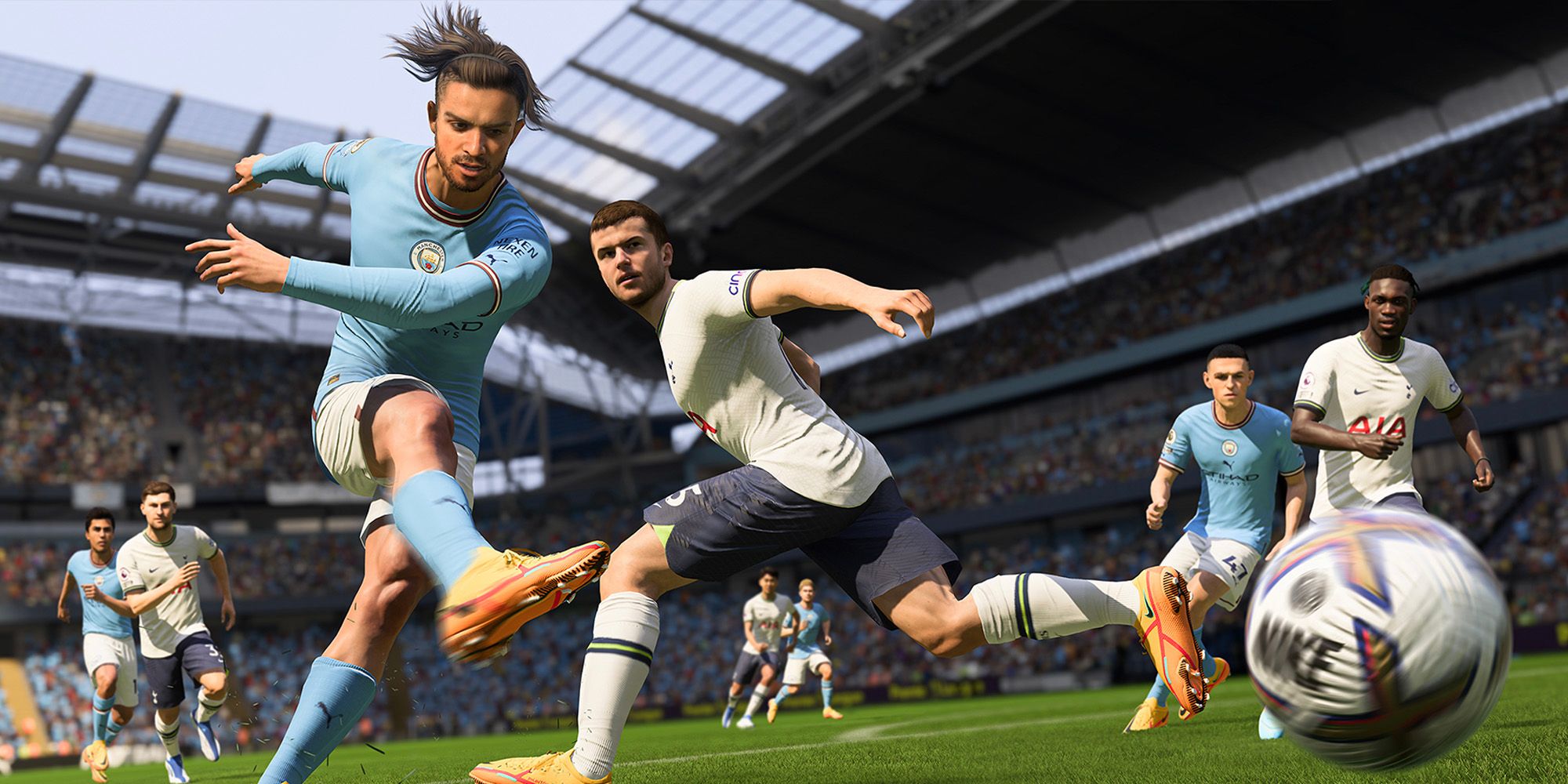 Staying on the same page as pace, passing in FIFA 23 can be a little clunky at best. Long gone are the days of ping-pong passes in FIFA, but now it seems like a mini-game within the match to get your momentum going.
If you're someone that loves that fast-paced passing that FIFA offered, this time you'll be a little letdown. Hopefully, with the new EA football series, we will see a pickup in pace in the match by the producers.
5/10

Extreme Reliance On Microtransactions
EA loves microtransactions, but with its final entry under the FIFA name, this backfired. When the game first dropped, all the fans went out to review bomb the game. Most of the complaints circled the age-old problem of pay-to-win to score some great goals.
Sure, this is the best way to make money on a game, but when people are already paying full price, it might be time to tone it down when it comes to the micros. Keep 'em in, but don't make the whole online experience rely upon them.
4/10

Weird AI Glitches
Another part that ticks us off in Career Mode is the odd AI glitches the game seems to suffer from. Sure they'll be patches soon, but when it comes to players scoring two goals in a game and receiving less than a six as a match rating this becomes extremely detrimental to your transfer market.
"Back in our day…." – Yep we're going to say that – When one of your players scored two goals they would've been the top player, and also have a major stat increase. While you're waiting for patches, you'll probably be able to pick up Mbappé for next to nothing.
This is something we can complain about for most EA games that came out after the '10s. Menus seem to get overly complicated. Sometimes making you backtrack to the first page as you've found yourself starting an Italian Cup rather than a Personalized Tournament.
Related: FIFA 23: Best 5-Star Skillers
What happened to the good old menus that would get you where you wanted in a couple of clicks and nothing more? EA should hire a UX and UI expert to work on this so people will can more time gaming than getting to the gaming.
2/10

Janky Animations
There is nothing to complain about when it comes to the graphics in FIFA 23, but there are a couple of problems that we've come across while playing. The first would be the length of the players – meaning they are really…well…long. And second: the animations.
This is probably brought about by the slower pace of the game, but many of the in-game animations seem a bit janky and off-putting.
1/10

Real-Life Coaches Are Made Of Nightmare Sauce
With the addition of a whole array of real-life managers to pick from, you would expect the team behind EA and FIFA to go out and map their skins. This didn't happen at all, you can tell that the coaches are simply edited with sliders.
The only real gem is Ted Lasso, so yeah, worst comes to worst, use him and him alone to be the best team in the world.